The New Jerusalem - Week 10
(Thanks to
Mollie Walker Freeman
for the above picture and others below)
"I saw the Holy City, the new Jerusalem, coming down out of heaven from God, prepared as a bride beautifully dressed for her husband."
Revelation 21:2


Our course and its vision have come to an end. What a spectacular end it is. In chapters 21 & 22, John receives a vision of the New Jerusalem, the Holy City of God. It's where the whole book has been leading us. We've already learned about the evil city of Babylon in chapters 17 & 18, a metaphor for the Roman Empire. Now, a new heaven and a new earth are revealed.

I don't know about you, but the whole idea of "heaven" seemed a bit remote to me as a child. Preachers and Sunday School teachers described pearly gates and golden streets, but the concept never appealed to me. The idea of "no more tears" seemed like a good plan, but when I heard it was for eternity, my childhood imagination recoiled at what I thought meant a never ending Sunday in the clouds, filled with church services, mandatory choir practice and for relaxation, a quiet household with napping adults. No thanks!


The Challenge of the Trivial
I daresay I am not alone in imagining heaven as banal and uninviting. When we encountered the spectacular final visions in our course, Craig Koester called this problem the "Challenge of the Trivial." What he meant was that the vision of the New Jerusalem has been so trivialized in popular culture that it's not always easy to truly see its power and edge. The pictures are entertaining but not exactly something on which you'd want to stake your future. We need a vision that will stir the heart and honour the mind. Like a "Magic Eye" image, it's important to keep looking for the true picture, for the vision of the New Jerusalem goes far beyond any stereotypes.
Some might not have an other-worldly view of the New Jerusalem such as this. Reading that it's a New Heaven and a New Earth, some have been led to think that the old earth has to be destroyed so that God can create a brand new earth, like taking the car to the dump and getting a new car. They hope for example that a new, glorious temple will be established in Jerusalem.
A Renewed Earth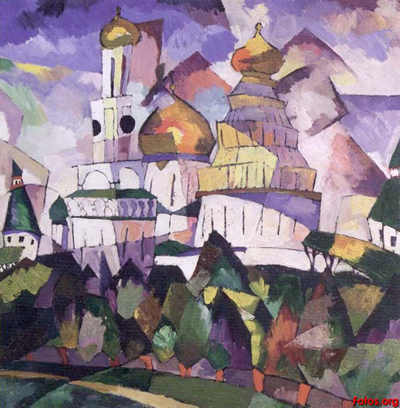 But the Greek word for "new" is not like that, nor are John's visions to be taken literally. It's more like a "renewal." Instead of a ruined earth, a renewed one right in the middle of this world is revealed. John would have welcomed this vision, since his home city of Jerusalem had been razed by war after the Jewish revolt against Roman domination. Most of John's community was poor, beset by troubles, with very little to hope for, and no doubt John's visions would have seemed like good news indeed.
No doubt Malala Yousafzai would understand John's hope for a renewed city. In her memoir
I Am Malala
, she writes of growing up in the town of Mingora, in the beautiful Swat Valley of Pakistan. It was a paradise which Queen Elizabeth once described as the "Switzerland of the east," yet became ravaged by the Taliban in Malala's lifetime. Now, years later, Malala is living in exile in England and longs for the day when she can return to a renewed paradise.
While not many of us have experienced exile and war, we can all relate to this hope since there are many kinds of wars which leave broken lives in their wake. There is not a corner of this earth, or our hearts, that doesn't need transformation.
Imagine all of us broken people suddenly seeing an amazing vision, not of a heaven we need to ascend to, but of a holy city that descends, renewing all it touches. Complete with the throne of God from Revelation 5, it moves from heaven down to earth and brings about massive changes to the very structure of the world. Previous to this, the throne room had been in heaven, but there is no more mention of heaven in Revelation after this point because it's moved to earth. It's not a static, dull idea of heaven, nor is it "pie in the sky when we die". Instead, it's a compelling vision of how God comes to dwell with us on this earth.
It's the culminating vision of the book — the picture of our life together on earth in a renewed world, a vision which we live in our lives right now. Unlike the dull, conventional images, it extends a vibrant word of hope to us all. Like the bejeweled Emerald City from the Wizard of Oz, it is a welcome relief for all weary travellers.
All Are Welcome
It is also a globally inclusive place, packed not just with Jews and Christians but everyone. It has 12 gates, but they're never closed. It's a city of welcome for all who have been in exile. As we saw in Week 4, it's a vision of a rightly ordered creation, the way things were intended to be. It's so inviting that we want nothing more than to be one of its citizens.
The New Jerusalem is holy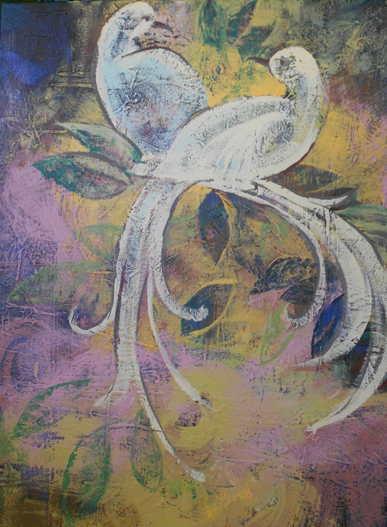 but it has no need for a sanctuary because every corner is filled with God's presence. There's no false light here, or false charms. No shadows are cast because God's presence is filling the whole place, but it's a very different kind of presence where God reigns. Usually the word "reign" has negative connotations because people don't like being told what to do. However, this reign doesn't mean domination but a participation and partnership in God's healing of the world. As a living symbol of this healing, in the very center of the city is the river of the water of life which flows out from the throne of God. The trees on either side of the river bear leaves that are for the healing of the nations.
Revelation extends a vibrant word of hope to people in this vision, but it's important that we don't miss how huge this is. The author doesn't separate the future of the individual from the future of the world. In his lecture, Koester shows how it touches on every dimension of life — social, political, sacred and even cosmic.
City City
A few years ago, our city of Winnipeg hosted the national hockey playoffs and the Winnipeg Jets were in the showdown. For a city with an inferiority complex, this was a big deal. Suddenly we became aware of our city in a heightened way. There were Jets jerseys and banners everywhere. People painted their trucks and love for our city reached an all-time high.
For the first century Roman reader, this kind of civic pride happened all the time. On the surface, Rome was a city of glory, the height of grandeur. It was the "place to be". But in reality, that image was false. Revelation's visions pulled back the curtain and depicted Rome as the "whore of Babylon". On first meeting, the pleasure and profit she offers might be seductive, but her charms would take you down and destroy you.
In many ways, these two cities, Babylon and the New Jerusalem, are mirror opposite. Where the city of New Jerusalem is the chaste bride of Christ, Babylon (Rome) was pictured whoring around with the kings of the earth. Where the city of New Jerusalem is full of the splendor of the glory of God, Babylon's splendor comes from exploitation. New Jerusalem's wealth comes from gratitude and generosity, but Babylon's wealth comes from extortion and stealing. The wine in Babylon makes the nations drunk and self-absorbed, but the water and tree of life in the New Jerusalem are for the healing of the nations. John's vision implores the people to come out of evil Babylon, but a "numberless number" of people are invited to enter the New Jerusalem. Unlike the degraded life in Babylon, life in the holy city is characterized by faithfulness, just as God's commitment was at the heart of the covenant in the days of the Old Testament prophets.
Already/Not Yet…and Something In Between
These are the first two cities. One, Babylon, is already here. We see its destruction in the news every day, where exploitation, injustice, fear and exclusion cause a less than vibrant life in every city. The other city, the New Jerusalem, is a place to hope, anticipate and long for but it is not yet here, and too often seems a long way off. We live in a time in between Babylon and the New Jerusalem, living with the tensions dragging us in both directions in the gap between the already and the not yet. We live in a world of sin and yet yearn for a world of perfection at the same time.
What the first readers needed was something in between, an alternate city to give their loyalties and civic pride to. Something that had the glory and majesty of Babylon but the holiness of the New Jerusalem. Babylon is of the earth and the New Jerusalem is the final event in the divine plan, but this holy city is in the boundary in between.
This in between, third city in Revelation is called the city of Zion which is the combined people of Israel and the church. Unlike the future city of New Jerusalem, this holy city is on earth now and was what Jesus must have been imagining when he taught us to pray, "Thy Kingdom come on earth as it is in heaven". The future city of Jerusalem has no chaos, but this one is not yet perfect in this way. Rather, this city suffers but is protected in its suffering. Like a church, its sanctuary is the hidden presence of Christ.
We see images of this city in literature. The 1933 book Lost Horizon describes Shangri-La, a mystical, harmonious valley enclosed in the mountains. It is a lost city but is so hidden. People who live there are almost immortal and live years beyond the normal lifespan. It's an alternate to normal society.
What a gift to be part of a hidden jewel of a city that evokes a pride and loyalty in you. The city of Zion is a foretaste of the New Jerusalem. It's not perfect, but its healing, inclusivity and life engendering nature can be found there.
But one might wonder, where is it? Is it just found in literature or movies, or does it exist in our real lives?
A Foretaste of the New Jerusalem
While initially resistant to studying this strange book, our community's study of Revelation changed us for the better. Its images rolled faithfully through our collective hearts and minds, and it seems they've lodged there permanently. No matter what scripture we're soaking in, it's rare for a study night to go by without a reference back to its beautiful, disturbing, faith-filled visions. Its themes are perennial. Whether it's the warnings not to conform to Babylon's way of power, the encouragement to trust that the seven eyed Lamb sees our every situation or the nudge to rely on lamb-like sacrificial power in all we do, Revelation has formed us and encouraged our faith.
This must be what protection in the city of Zion is all about, that sacred place where we are saved from evil's power and hear a message shining through with hope. Surely places like this are a foretaste of the New Jerusalem. A place where inclusivity, the healing of the nations and a life-engendering river at its center evokes a prayer for it to come in its fullness, "Thy Kingdom come". While it's far from perfect, it is nonetheless a place where our attention is fixed on something, or Someone, larger than ourselves.
It has been an honor and joy for us to share this blog with all of you. If you have been encouraged by the lovely character of the Lamb, then our job is done.
And as Koester described of the New Jerusalem, may God touch every aspect of our lives, social, political, sacred and even cosmic, bringing renewal and healing inclusion for all. We hope you've discovered the blessing of God through this course and the message of God's hope for our world.
Questions for Engagement
Now that we are at the end of our course, we'd love to hear from you. Which lessons stood out for you? Did the visions of Revelation speak to you or come alive in a new way?
New Jerusalem—A Realtor's Report: Read Revelation 21:1–22:5 as a realtor would. Write a description of this ideal piece of property in a way that 'sells' it to all who have ears to hear.
Take some time to imagine a world that you would like to live in. How does it differ from the world around us? What aspects of the New Jerusalem seem attractive or unattractive to you?
In case you'd like to read more…
Previous Post